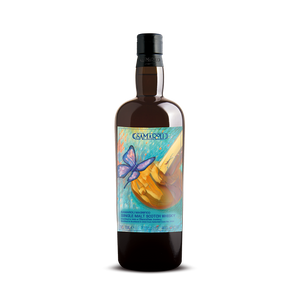 1986 GLENROTHES MAGNIFICO
SINGLE MALT SCOTCH WHISKY
DISTILLED IN 1986
FROM GLENROTHES DISTILLERY
BOTTLED IN SCOTLAND IN 2022
SELECTED CASK #2122

This is precisely an opportunity for prove one's magnificence: a thirty-four year old Creation which has only just began resting in the bottle you hold. Please allow some magnificence to rub off onto yourself as you handle, pour, savour and become fulfilled by its evident opulence.

I marvellous bouquet and a tower of Babel arching over our palate. First, film, or solvent: a photographer's dark room.

Then a quick about-turn zooming into toasted grains, wet leather and forest undergrowth. Articulated and expounded on the bones of a sherry
stave, fixing notes, tones, feelings, sensations and aromas.
To the palate, pungent, perhaps difficult. Not immediately forthcoming - actually, it hides a little. Saline, but with grace. Alcoholic with impertinence. A complete actor able to take on a new successful role every time we are watching.

Magnifĭcus: made up of magnus (great) and facere (make). Refers to actions, behaviour, occasions.