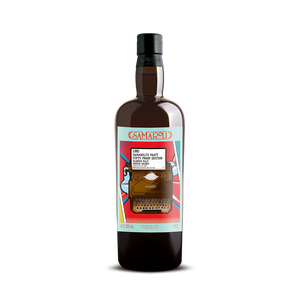 1995 SAMAROLI PEATY FIFTY PROOF EDITION
BLENDED MALT SCOTCH WHISKY
DISTILLED IN 1995

BOTTLED IN SCOTLAND IN 2021
The time lapse between assembly and bottling ...
the time that different singles spend in the barrel ... is called Marriage.
Love that leads to union, a story that gives life to something infinite ...
With the perseverance of the writer who spends his nights at the typewriter, we have waited and fought to give life to this Blend, our Peaty that has accompanied us on our journey for ten years.
As always, opulence, richness and that charm a little bit from the Belle Époque amaze. Evolved tones complex and in constant motion. To celebrate it's tenth year, we have a reinforced grade that accentuates a sulphureous note on the nose that is nebulized leaving room for herbaceous and candied orange tips.
Enveloping in the mouth, satisfying and gives us back all the sensations that initially stimulated us on the nose. The finish is persistent with strong notes of fresh hay, rhubarb and roots that leave us slowly.
and without haste ... like hugging each other in a long goodbye.
"Love is physical, the chemical marriage "
                             Alexandre Dumas
AWB