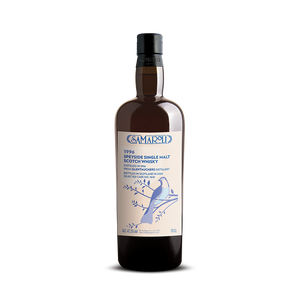 1996 GLENTAUCHERS
SPEYSDIE SINGLE MALT SCOTCH WHISKY
DISTILLED IN 1996
FROM GLENTAUCHERS DISTILLERY

BOTTLED IN SCOTLAND IN 2020
Holidays in childhood with parents to worry about problems and children, carefree kids all together regardless of anything and with the world waiting for us. All sitting around a fire at dawn at the end of summer, a feeling is born, a desire that summer never ends, a kiss on the forehead, promises to believe in. The desire to see each other again soon...
It's all about this whisky after we meet him. A pungent, persistent and ripe scent of freshly burnt wood, dried leaves and the countryside burnt by a tiring season. Resin and hay. In the mouth is satisfying, yeast, honey and butter flood the palate. Very long, persistent and intriguing. Complex.
Great character with a lasting and graceful taste.
I thought of my mother and saw her dresses again... The smartest was black and with the not withered flowers yet
From song "I giardini di marzo" (The garden of March)
Battisti-Mogol