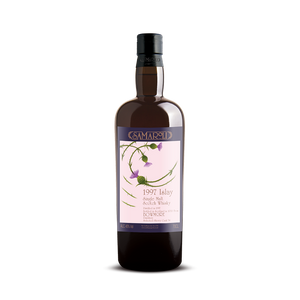 1997 BOWMORE
SINGLE MALT SCOTCH WHISKY
SHERRY CASK DISTILLED IN 1997
BOTTLED IN SCOTLAND FROM
BOWMORE DISTILLERY

SELECTED BUTT 54
A nineteenth-century café in imperial Russia in the confusion of chatting amid the cheerful fumes of amused companies, an elegant and mysterious figure hides immersed in his torment and in his thoughts. Despite adverse events, one cannot but love life, despite the suffering that entails nothing as satisfying as the search for truth. If seeking it means disavowing what has always stood as a totem of our life, we must find the courage to do so.
We dedicate this great bottling to a great author
Gentlemen we are faced with a simply wonderful spirit.
Only Bowmore can give life to such rare, unique and unrepeatable declinations. It has always been the only malt that exhibits peaks of fragrance and elegance worthy of a burgundy chardonnay, moreover dated. Elegant, fragrant nose. Rich in tones of white chocolate and powder that contrast with hints of stove charcoal and toasted wood. All this is the forerunner to those peaty tones that manifest themselves in a delicate and not overwhelming way. On the palate it is disruptive and devastating, but not for the usual brute strength of peat products, but for its elegance and roundness. Guess what, all enriched by the passage in sherry barrels that does nothing but round and ennoble all the characteristics of our Bowmore, without conditioning it but only emphasizing it. It leaves us with such a succulent aftertaste that we run to get the bottle ... in the hope that it's not over.
Hell is the suffering of being unable to love
                        Fëdor Michajlovič Dostoevskij     
AWB