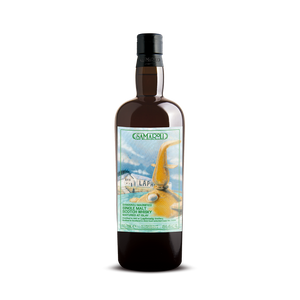 1997 LAPHROAIG MAGNIFICO
SINGLE MALT SCOTCH WHISKY
DISTILLED IN 1997
FROM LAPHROAIG DISTILLERY
BOTTLED IN SCOTLAND IN 2022
SELECTED CASK #3324
MATURED AT ISLAY

A metaphysical, alchemic cask. It might have been blessed by a druid in post- Roman Britain.

This distillery represents the history of whisky, and we stand before a malt which has bewitched millions of connoisseurs. We have the presumption of having brought all this to a pitch of magnificence.

The bouquet opens up as mossy and earthy. Lived-in but not tired, like an opera offered anew every season but still met with enthusiasm on opening night.

The corollary of subsequent sensations immediately carries a smooth tune with a vanilla and a fruit arpeggio. All against the drone of elegant never-invasive, never-redundant peat.

The palate is now dancing. Thus: myrtle, juniper, toasted sesame and our beloved Sicilian cakes - from the
Catania area to be exact - giving life to those notes which round off and mellow this sweet and smoky whisky which is a lucky marriage between smoke and cream.

We move on with our druid who is getting ready to light a fire on the beach for the summer solstice and enact his rite. The planets are aligned, the sunset just right and the stars appear on the horizon. All we can say is... Magnifico.

Magnifico speaks to us with its grandeur, its sumptuousness. This respectful title was attributed o princes, great personages and judges during the Renaissance.