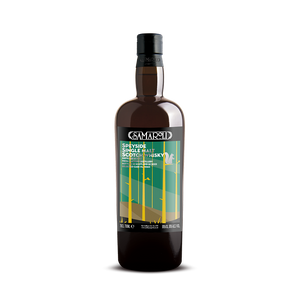 1997 MACDUFF
SPEYSIDE SINGLE MALT SCOTCH WHISKY
DISTILLED IN 1997
FROM MACDUFF DISTILLERY
BOTTLED IN SCOTLAND IN 2022
SELECTED CASK #5260
Our eye or rather our nose stopped on a young boy who allows us to bottle another edition of our philosophy of Islay the Queen of Scots. We are facing a Caol Ila, young, arrogant and bold.

Despite its young age, the mastery of the woods delivers it with a delicately peaty tone. Notes of yeast, butter and smoked meat appear shyly on the nose, a bit like the scents of an extinguished fireplace after the night. Toasted tones of almond, hazelnut and candied fruit.

The saline dimension surprises for its balance and harmony. Hints of anchovy herring; let's say that scent of "Porticciolo" with mineral tips. The panoramic fields of capers that descend towards the Sicilian sea comes to mind ... On the right, the columns of Heracles; on the left, the mysterious and intriguing East.

Between ocean and sky there is a thin line that is easy to distinguish, clearer. I learned to recognize it in Brittany.