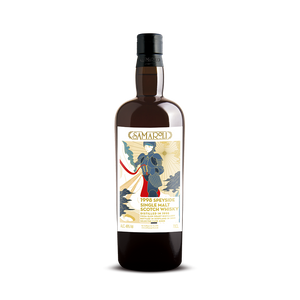 1998 GLEN GRANT
SPEYSIDE SINGLE MALT SCOTCH WHISKY
DISTILLED IN 1998
FROM GLEN GRANT DISTILLERY
BOTTLED IN SCOTLAND IN 2021

SELECTED CASK 6440
A classic of our selections is back, the Prince of Speyside.
A young man riding a steed that charms us with its elegance, dexterity and roundness.
Let's imagine a Knight of the Round Table returning to Camelot, on the way time stops and everyone looking at him ecstatically.
We have done our utmost to control every step of this whisky which, through twenty three years of aging, is delivered without weapons, but armed with its strength and elegance in the glass.
Spicy and dusty tips such as chopped pink pepper are the background to a reassuring nose that inspires protection, a range of floral scents alternating with fruit tones.
The only fear is that of not finding such a spirit anymore… Fortunately, the palate does not betray us, on the contrary, it welcomes us as if returning from an exciting day in her arms. Pungent, with a classic rhythm full of solos ... Oregano, mint, raisins ... A set table, where there is room for everyone and we are all equals.
Simple, stunning and succulent.
Years to build. Moments to destroy ...
                                         Excalibur 1981
AWB