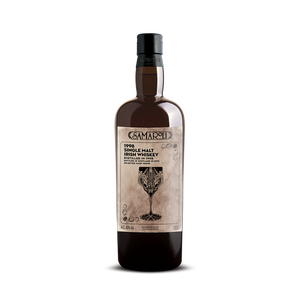 1998 SAMAROLI IRISH
SINGLE MALT IRISH WHISKEY
DISTILLED IN 1998
BOTTLED IN SCOTLAND IN 2021

SELECTED CASK 10049
We warmly welcome a new addition to our range with open arms.
A child who comes from Ireland and we dedicate this bottling to all those who have left their home to seek their fortune ....
Without prejudice we are proud to present this selection
The marriage between Irish malt and ex-bourbon barrel recalls the crossings of hearts and passions that from old Europe chased dreams into the new world
We love to teach our concept of quality without imposing notions and therefore we urge you to understand what is special and different about this bottle; criticize us attack us if we were good congratulate us. But we urge you to use this experience to build your taste, your concept of quality, your path as aficionados and drinkers.
Immediately an important background of structure with tones of ripe fruit and humid meadows opens the range of other drier and more mineral sensations. In the mouth it envelops surprising us with a complex evolution of olfactory shades. Everything develops in a calm way with a Jazz orchestra rhythm
Freud said that the Irish are the only people impenetrable to psychoanalysis.
AWB