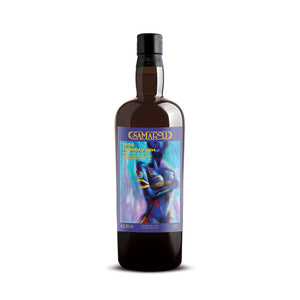 1999 TRINIDAD
RUM
BOTTLED IN SCOTLAND IN 2021
SELECTED CASK 31


An island of sprinters, pirates and explorers... The archipelago of Trinidad and Tobago has always been at the centre of the history of the Caribbean and its seas, but with a quiet presence. Like all the previous bottlings, it maintains a timid character. Arum that is quietly important. A distinctly whisky-ish rum.
An overarching structure of chlorophyll and molasses supports it as it reveals its delights. We get scents of undergrowth at first and then a subtle medieval aroma brings us to "nave of an old Romanesque church". That smell of ancient books of worship. With grace and harmony, these scents turn to vanilla... or rather, to stracciatella ice-cream with hints of liquorice and dried fruit.
Complex and complete, its timidness is perhaps more an awareness of being a great spirit. On the palate, an explosion of juniper berries and a very subtle, unexpected sweetness, a mix of butter and honey. A finale of sweet notes develop a roundness and subtlety that develop into a taste of roundedness and subtlety.
más cuesta mantener el equilibrio de la libertad que soportar el peso de la tiranía'' dicha
                                                                                                                             Simón Bolívar
AWB