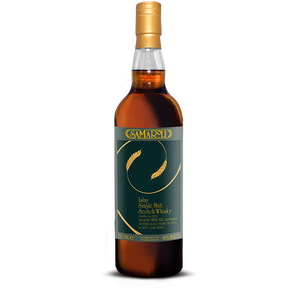 2001 BOWMORE – BOTTLING 2016
ISLAY SINGLE MALT SCOTCH WHISKY
DISTILLED IN 2001
FROM BOWMORE DISTILLERY
BOTTLED IN SCOTLAND IN 2016
PORTO CASK FINISH

Austere as a king of medieval Scotland. We are faced with a milestone in the history of whisky. We are taking it into its twentieth year fifteen in cask and six in bottle and we will make a furrow in the history of Scotch whiskies, a furrow so marked that it will become a theme of doctrine for consumers in the coming decades.

The bouquet opens musky and earthy, in the chorus of sensations the voice of softness rises immediately afterwards with vanilla and a complex fruity appeal that opens up completely to recognition in the mouth.

Myrtle and juniper berries then explode and a buttery sweetness of pollen dissolves the initial austere character. The sweet notes round off and soften the form, the smoky notes hold up the structure: it is a fortunate synthesis of smoke and cream.

It is the scent of heather lashed by a salty wind. An extinguished fire, under a lime tree, in May.