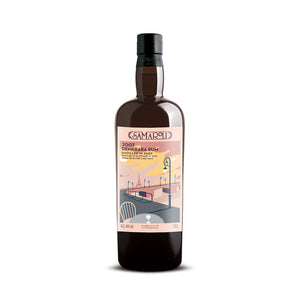 2007 DEMERARA
RUM
DISTILLED IN 2007
BOTTLED IN SCOTLAND IN 2021

FROM SELECTED CASK 5872


Sinuous, rounded shapes the discovery of beauty in a certain sense, opulence within everyone's reach.
A Rum from Le belle Époque
A Rum that accompanies us on walks through the Boulevard of an unrepeatable Paris.
A sensual Rum that loves to be contemplated.
Undulating rhythm, round, opulent, "sparkling" perfumes like the lights of the Eiffel Tower
Cuddly nose with hints of thyme, toasted juniper. Attention let it interact it will surprise you
with hilarious variations on the theme.
Complex in the mouth, rich in nuances ... like the colors of the Seine at sunset. Rich high opulent tones
pastry, meringue, peanut butter and toast.
A really good job. We are proud of ourselves and above all of Scotland who helps us,
as always, to extract the most from the spirits of the Caribbean.
The artist is nothing without talent, but talent is nothing without work
AWB