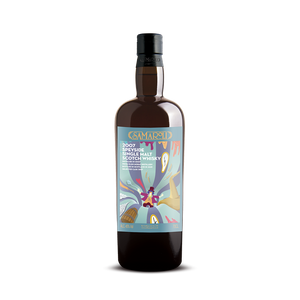 2007 GLEN MORAY
SPEYSIDE SINGLE MALT SCOTCH WHISKY
DISTILLED IN 2007
BOTTLED IN SCOTLAND IN 2021
FROM GLEN MORAY

DISTILLERY SELECTED CASK 5857
Fourteen years may seem like a few or many depending on the specific weight of the time.
We are all aware that in a minute the seconds are as many as there are minutes in an hour and so on ...But ... How long does a day last for someone waiting for someone to return? How long does an hour last in the company of someone you love and how long does a minute last for someone who runs a race?
We can only say that in our profession time is the fundamental ingredient; as the sand flows in an hourglass, the elements and substances of our whiskey pass through the pores of the wood entering and exiting, the result of the interaction with the microclimate of Elgin County.
Classic, fresh, clean, straightforward, fragrant, mineral. Cereals, yeasts, salt, graphite, honey, grapes in alcohol. In the mouth it explodes intense, persistent, snappy, muscular, young, caressing, savory.
The taste is surprising, since on the nose its character appeared less impetuous, less multifaceted, more silent, more reserved, more difficult to conquer and instead, now, it is given unexpected and generous.
The exploit is his figure, the ace in the hole is his style, the round of the right cards is his game, the hidden treasure is his archetype. Only at the end do we fully get to know its character: balanced, soft, lively, long.
Remember! The day wanes; the night increases;
the abyss is always thirsty; the hourglass empties.
                                       Charles Baudelaire
AWB