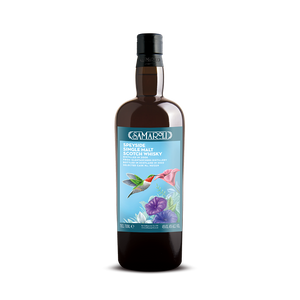 2008 GLENTAUCHERS
SPEYSIDE SINGLE MALT SCOTCH WHISKY
DISTILLED IN 2008
FROM GLENTAUCHERS DISTILLERY
BOTTLED IN SCOTLAND IN 2022
SELECTED CASK #901229
A sumptuous, complex and embroidered robe. A rich and frilly mask, quiet hubbub, heels in the calli of Venice. Welcome to a February night in one of those years when a city on water gave itself the privilege of the definition as Serenissima. This term represents a style, a way of the heart. It collects both pride and peace without the worry of where one ends and the other begins.

We find the courage to be patient and not to expect everything to be clear immediately. "Now" is not part of our vocabulary. But I digress... back to the sound of footsteps.

Let us dwell on this 14-year-old spirit which we learn is brimming with all manner of fragrance. Vegetable and balsamic. Strident and opulent at once.

Thus, the nose is juicy, satiating, rich and creamy. In the mouth it is pungent, inebriating and exciting. A mix of Caucasian and Mediterranean cuisine. A clear and all- harmonious reassuring finish.

Please let's not be superficial: let's allow this spirit one extra fraction of a second. An additional moment to rediscover what we are.

And as we wander by ourselves along the porticoes of the mysterious side of Venice, we will not be alone. Life's love and the love of life is with us.