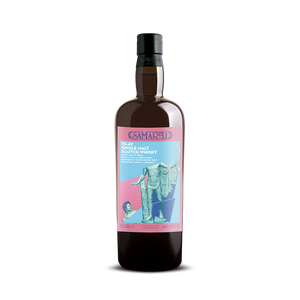 2009 CAOL ILA
ISLAY SINGLE MALT SCOTCH WHISKY
DISTILLED IN 2009
FROM CAOL ILA DISTILLERY
BOTTLED IN SCOTLAND IN 2022
SELECTED CASK #2100012
TOKAJI CASK FINISH
What is Art?
It is any form of human activity displaying or promoting inventive talent and capacity of expression. Any orchestration of techniques or methods pertaining to self-fulfillment or practical application in any field of action, especially when this is a profession or a trade: poetic; military; medical; wrought iron, Art. To devote oneself to, to practise, to undertake, an Art. Art is a realm we belong to, one we are experts in, skilled at, when we carry out our craft.

We did it: we married up a corner of the distant east with our dear Scotland to the north west of Europe. An achievement above and beyond whisky- making — malting, ageing, bottling — what mastery, what patience, what art. Let's enjoy a barrel reminding us after 72 years, with great strength and character, that this Islay is no more.

Ageing of the highest quality delivers a peaty result able to carry itself with utmost elegance.

Speaking via silences rather than noise, it glides through our nostrils and the palate as it asks for forgiveness.

Medicinal and iodine are the master notes, sustaining the aromatic structural ensemble which supports and accompanies: fragrant as toasted grains, like hands caressing the spikelets on a summer afternoon. Tones of officinal herbs, vanilla, leather in the background and liquorice complete the bouquet making it just complex enough to enable our imagination to take flight.

A side note: such was its goodness that we dared not add water. We consign this at full strength.

All this enhanced by an elegant and intriguing touch of Austro-Hungarian Mitteleuropa unknown perhaps to many, but whose legacy is inescapable...

Rather than try to render the southern Italian proverb we have on our lips, we find it no surprise that an English one may echo the very same sentiment: "He who has an art has everywhere a part".