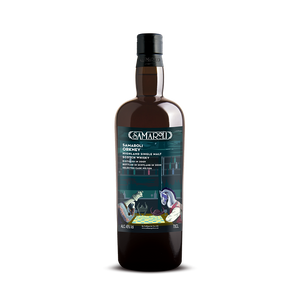 2009 SAMAROLI ORKNEY
HIGHLAND SINGLE MALT SCOTCH WHISKY
DISTILLED IN 2009

BOTTLED IN SCOTLAND IN 2020
It has been a long time since Sigurd The Mighty, the second Viking to become Earl of  Orkney, ruled the archipelago in the years between 875 and 892 and opened a "PUB" in the meadow of Skaill Farmstead. Recently archaeological remains have been found. This place was frequented by the VIPs of that time : Viking soldiers who returned from the raids and celebrated in the pub of their Lord. About a thousand years later, the art of distilling came to these extreme latitudes.
The Orkney Islands are far away. Today it seems to be watching and controlling the British island a bit on the sidelines.
Trying not to attract anyone's attention, they remind us of times of myths, Warriors, Knights of monks. Times when nature was a measure of all things and time was free to flow without being a prisoner of clocks or instruments to count it.
An island immersed in a storm is the image that perfume brings to mind when we approach the nose to this spirit and you can find a cocktail of flowers and iodine, the one that arises from the salt deposited by the wind on the Meadows by the North Sea, or the Sea of Norway. It blends hints of Heather and powdery, loose powder with brackish and seaweed notes.
A man without friends is like a bare birch, without leaves or bark, only on a bare hill.
Viking proverb