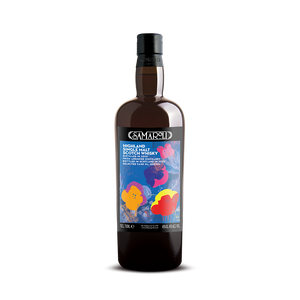 2010 ARDMORE
HIGHLAND SINGLE MALT SCOTCH WHISKY
FROM ARDMORE DISTILLERY
DISTILLED IN 2010
BOTTLED IN SCOTLAND IN 2022
SELECTED CASK #805394
Here it is. Already a veteran in the ranks. The second edition of a spirit endowed with a harmonious complexity which fulfils, inebriates, involves us. We would like to return to adolescence, when fear of time was unknown to us.

A golden age is always too short, and the darker years too long.

A rapidly sketched out picture, like a child's drawing, taking us as youthful and energetic young somethings to New York in the 1920s. Smart clothes, cars, chauffeurs, and a secret door in a corner we can just make out through the notes of a charleston tune. Who knows where to?

Time flows quickly and anonymously, leaving us all permeated with memories. Sensations, feelings and passion which over the years fill our wide-open eyes with tears as we recall the places and replay that phrase once upon a time.

Chaste to the nose at the beginning — not everything is for the taking immediately. Open only to those able to wait. Because biding one's time may for some be a real need. Scents of wood, old-time bar tops. Ceilings imbued with tobacco delicately opening the path to mentholated and quasi-metallic tones supporting this arresting structure. In the mouth we are cuddled at first by cumin, cinnamon and cardamom notes. Then juicy cedar and sandalwood open up. And finally, we close with that note of precious ancient wood taking us back full circle.