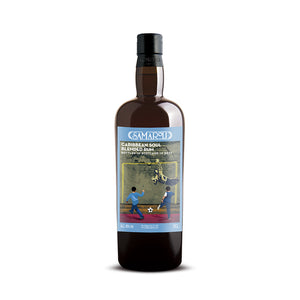 CARIBBEAN SOUL
BLENDED RUM

BOTTLED IN SCOTLAND IN 2021


Dear fans, here we are at a new bottling of our blend that has now become a classic. The different souls of the Caribbean come together in a fast-paced painting.
Curious like a child who discovers the world, restless elusive ... like the kids running after a ball on the street ...
The champion we dream of being as children… a very Latin Rum that we dedicate to the dies
Intriguing already from the color. Tantalizing on the nose with hints of mushrooms, of those to make a sauce when Christmas comes.
Shades of hummus, undergrowth, and damp foliage. In a second time, shades of cream stand out,
ground coffee and nutmeg. On the palate it alternates as the winds and strings of an orchestra alternate.
On the palate spicy and marine tones, so sustained that it seems to take a walk in a forest from Mediterranean bush. Touches of custard, peanut butter and hazelnut.
All punctuated in an overwhelming rhythm like the repeating of the notes between the piano and the brass of an old-time Boca orchestra.
On the pitch you don't fight with weapons, but with the ball
DIEGO ARMANDO MARADONA
AWB