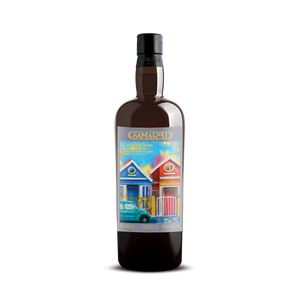 1997 CARONI
RUM
DISTILLED IN 1997
BOTTLED IN SCOTLAND IN 2022
SELECTED CASK #899

Off we go! Another intriguing adventure together through a truly precious asset added to two classics in our repertoire.

A great baroque oeuvre built to accompany a superb soloist and laced with the right dose of forcefulness by an orchestra able to reveal all, but in stages.

The lead performer: Caroni rum, 1997. No community, no team is cool nowadays unless it is able to support individual talent. There is a global predicament which may flatten one's efforts and it rears its ugly head when there is no purchase on the part of the group, and no recognition of the individual and their creativity and
imagination.

A powerful and disquieting opening through hydrocarbons - albeit in light doses, just to make up a space. Then gum and black fruits (blackberries and morello cherries)... the same felt-tip pen we use in Hispanic rums we produced in the past. After, coffee, boisé, the broad presence of black pepper. The palate is livelier than what the nose might have promised, as it is pressured by milk chocolate, coconut, date and menthol.