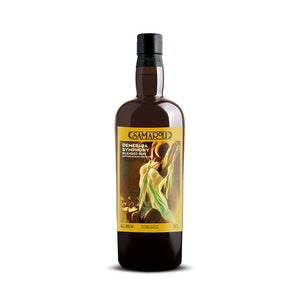 DEMERARA SYMPHONY
BLENDED RUM

BOTTLED IN SCOTLAND IN 2021


Our rum transports us on the waiter's tray who, crossing the dark corridors are interrupted by the light of the dressing rooms, sees the make-up artists who transform the actors into expressions of the audience's dreams.
United together for some time, two barrels, one from 2003 and the other from 2004, give rise to this Demerara, an attempt was made to create a rum with a very complex capital 'R'.
Iron character, lintel worthy of a vintage brandy. Cuddly nose with hints of thyme and juniper toasted. Complex in the mouth, rich in nuances ... a workshop of goldsmiths with metallic hints.
Tamarind mint and toasted walnuts with hints of rose on the palate - an amazing mix indeed !
We are proud of ourselves and especially of Scotland which helped us, as always, to extract the most from the spirits of the Caribbean.
The neck… has all the mystery of a border town
                          The Devil's Advocate 1997
AWB