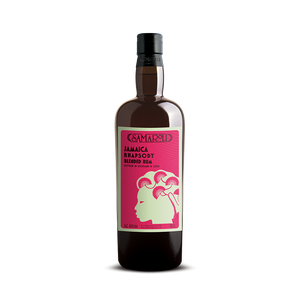 JAMAICA RHAPSODY
BLENDED RUM

BOTTLED IN SCOTLAND IN 2020
We live in times without certainties, we have to build them day after day, and then modify, adapt and evolve them. What foolish times we live in. They ask ourselves to be matter in motion. Permanent motion. Never restless and always in the spotlight.
We cannot be inspirational about it, on the contrary we can offer a way out of reality, like composers in front of a blank sheet of paper, we have few fixed points. Our pentagram is RUM, our notes are the different barrels of Jamaica, the pen is wood and finally, the key, the scale and the chord are the years of our very vertical Blend.
We thought and created our Jamaican rhapsody this year in rock mode.
The nose "travels" and makes us travel. The games of childhood, glue, plasticine and even warm bread, yeast and marzipan. Everything seduces us, reveals itself without showing itself. The palate scratches, touches and flees. Leaving the mouth like the shoreline of a beach. Drained and wet at the same time.
Wonderful... The love of a woman who loves only you... is wonderful.
Domenico Modugno