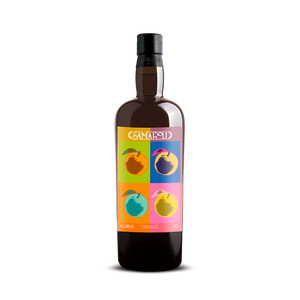 ORANGE LIQUOR SECOND EDITION
Orange Liquor
Bottled in France in 2021
Just 510 bottles have been produced

Alc. 40% Vol.
This liqueur was created to transport one's mind back to the lush orange groves that lined the noble and opulent Sicily of Norman times, extending our minds from the Mediterranean to the Baltic Sea.
"Orange" is a realized dream of passion – combining Cognac, Armagnac, and very old brandy with natural ingredients, enriched by aging in precious woods for 3 years, to create a liqueur synonymous with a piece of art capsuled in a bottle.
Fragrances open up like a pandora's box with deep orange tones complemented by oregano, sesame and delicate whisps of vanilla and freshly baked croissants. On the palate is a well-combined symphony of fruity and complex flavors. Hazelnut and candied orange bon bons are the soloists of the orchestra of sensations that stimulate the imagination and memories of the drinker.
AWB