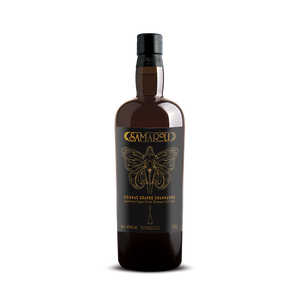 SAMAROLI GRANDE CHAMPAGNE COGNAC
COGNAC

BOTTLED IN FRANCE IN 2020
We risk being hated, we have to repeat it, we still love our work !!!
We can allow ourselves many luxuries besides that of traveling through time by bottling the thousandths of other times and we also allow ourselves to assemble them.
So loads of courage, skill and a touch of madness, we present this bottle from two Grande Cognacs from 1935 and 1941.
Why? Simple want to be the bearers of History, but we want when it is possible to leave our testimony. We want to have the presumption to say Created as well as selected or aged. The process that led us to deliver this bottle to you is first an inner struggle with ourselves and then a work of selection and assembly.
The thousandths come from the now finished century. A Century that was saturated with events of all kinds.
An era that must push us to always be better than to seek one above good or evil above white or black. Fleeing from the nightmare of passions we must take refuge in the search for balance, this is our obsession ... Harmony is our muse.
The fair of opposites: elegant and austere, fresh and mature, sapid and sweet, sweet and hateful (hateful because, sooner or later, it will end alas both in the glass and in the bottle) !!!!
The slow evolution in the glass will give us a rainbow of tones and hints of prune, tamarind, caramelized cooked pear, leather, raisins, advanced vanilla tones and gradually many other fragrances follow one another with long aromatic persistence. Enveloping in the mouth, of remarkable finesse and elegance, perfect nose / palate correspondence. An unparalleled champion of rare quality was born.