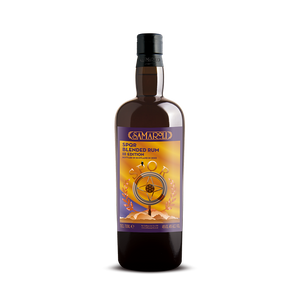 SPQR 2022 ED.
BLENDED RUM
BOTTLED IN SCOTLAND IN 2022

Any resemblance is purely coincidental, third edition.

Sure, the Roman season our firm is living must have impacted on the choice of name in our latest rum assembly.

We decided we wanted a rum to explain our philosophy at all latitudes and in all battlefields. Hence the reference to imperial Rome, in a bottle allowing the best bartenders to make use of a curiously unusual ingredient. A rum to be drunk neat at first, and afterwards mixed, so as to be able to appreciate its depth, evolutions and possible variations.

Beware: this rum will come to an end. Therefore any recipe our spirit will become a main feature of cannot last forever. Oddly this fills us with pride, because nothing should be eternal and nothing should be conceived to be repeated forever. Quality must end and be subject to change as it is informed by what occurs in our world each day.

A nose and palate evoking a sense of Mare Nostrum, that Mediterranean surrounded by the Roman empire. A lengthy promenade from the gate to Asia and Cappadocia through the roads of Greece and the south of Italy to the lavender fields of Provence and further to the maquis of Andalusia. Dried figs, dates, linden honey, alcohol-pickled fruit, then fruits firmed up by sun and caramel, candied apricot, sweet spices, saffron... a long list of sugary associations. Equally opulent, balanced, fascinating, virile, generous, expressive, untiring to the mouth. We are surprised, conquered, convinced, attracted and then left alone only to be brought back to where we left off once more, without weakening or wearying – in fact with crisp vivacity.