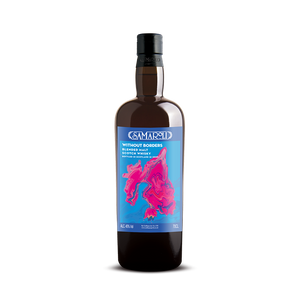 WITHOUT BORDERS
BLENDED MALT SCOTCH WHISKY

BOTTLED IN SCOTLAND IN 2020
We begin the journey of a new must of our stable.
Without rules we have assembled the predominant characters of Scotland.
The elegance of Speyside, the strength of Highlands in Sherry and the structure and minerality of Islay.
A blend dedicated to our generation, which managed to live a world without walls and barriers. And provocatively also to all those who dream about walls, who say no and who sow panic to get more control.
We love to teach our concept of quality without imposing notions and therefore we urge you to understand what is special and different in this bottle; let's criticize us, but if we were good let's compliment us. But we urge you to use this experience to build your taste, your concept of quality, your way of enthusiasts and drinkers.
Immediately a background of ash, iodine and butter (Islay); immediately we find a long and pungent note a little bit sulphureous (sherry) that fades slowly getting out of shades of candied fruit (Speyside). In the mouth enveloping, fulfilling and gives us back all the sensations that initially stimulated us in the nose. The finish is persistent with strong notes of fresh hay, rhubarb, undergrowth and roots.
Orbiting Earth in the spaceship, I saw how beautiful our planet is. Without borders.
Yuri Gagarin (12-04-1961)